uk.rec.fishing.game badge
In early 1998 there was some discussion about a badge for readers of the usenet group. The idea is to aid identification when fishing/meeting people with whom you have only net contact.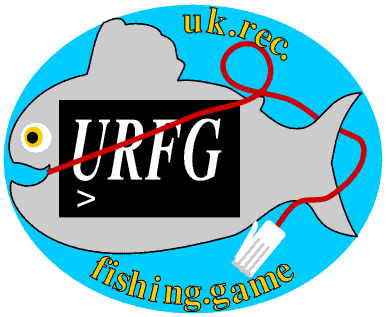 The discussion stalled about mid June so I put together a trial design. It was intended to be no more than a starting/discussion point but the design seems to have stuck. I put all rights entirely in the hands of regular contributors to URFG. I will not be offended if the design is changed or replaced.
The image is held in a vector format so it can be scaled to any size without loss of definition. There are six colors in the pallette including black and white, the grey and yellow could be rendered silver and gold if desired, the red could be lost if need be.
Alternative formats
The original file in RISCOS (Acorn) !Draw format (12K). This file can be rendered and scaled to any practicable dimensions. Many UK schools have computers capable of handling this format.
A translation to Windows Metafile format (19K).This will scale up to about CD size before looking angular, for all ordinary uses it should be fine. This file is suitable for use as clip-art in Microsoft Windows environments. If you do need to scale it up to huge dimensions (can't imagine why) I can supply files suitable for most printing techniques.
---