This report is concatenated from two posts to usenet in 2003.
Three men on a beat
The week Before Easter on and around the Moy. Dave, Nigel and me.
Tuesday: Nigel and I arrive mid afternoon and ask around to find the water low and clear after several rainless weeks. A shower the previous Sunday had brought a few fish on but the brief rise was already falling. We grabbed the last hour of daylight on the Gweestion with trout rods just to kick-start our fishing trip. Nigel got a couple of brownies on wet fly and I tried a dry - caught nothing so changed to wet in order to fish back down to the starting point but first cast my black and peacock was taken in the first three inches of drift -before- it had sunk - so that's one to the downstream dry ;-)
Dave had arrived when we got back to the guesthouse (he drove, we flew) so we went to the pub... (In the Angler's Bar in Foxford they draw the traditional shamrock in the head of the guiness. After the third one I'm not sure but I could almost swear it looks more like a salmon fly.)
Wednesday: Pick up permits&c and head for the East Mayo Angler's Association water. We based ourselves at 'The Gub' a deep junction pool. Nigel and Dave took one car upstream and left it there whilst they fished the fly-only water down to the Gub and I fished downstream from there.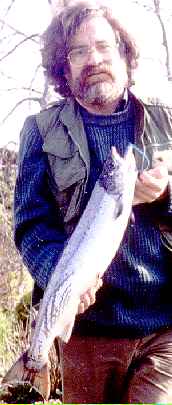 It was bright, -hot- and the water, already low, was dropping fast. I rose one fish about a mile downstream at the head of Ryan's Pool, it came twice to different flies but didn't take, nor would it have a spinner. Just before lunch I walked back up to the streamy water just below the Gub and caught about a dozen small trout and parr on a tiny orange tube in what is supposed to be a spring-fish lie. The others arrived, fishless and we decided the pub was in order - so they took car #2 to collect car #1 promising to pick me up in ten minutes. To while away the time I cast one of Dave's spinners into the Gub trying to work out the contour of the bottom which suddenly fought back. The only tricky part was landing the fish without waders (I had just changed to street shoes) and without a tailer or net (in the car) but I persuaded it to more or less beach itself and tailed it by hand. So when the cars returned I had a 7lb springer hanging on the gate next to the stile :-)
The guiness was back to shamrocks.
That afternoon the water dropped even farther in the heat and only parr showed any interest.
Thursday: Gadabout day. Rather than flog the abnormally low Moy we decided to tour and fish wherever fancy took us. We went west. There were no boats available on Lough Carrowmore so we waded along the north shore. At first I tried the old chuck-it-as-far-as-possible-and-strip-it-back ploy but twice hooked small browns just as I picked the fly up to recast. The obvious but rather tiring tactic was a sort of lough-style deep-wading. Holding my rod as high above my head as possible I switched a short line across the wind and dibbled the dropper round to take several more brownies but then I got complacent and reacted far too fast when a better fish rose. Never mind, at least we hadn't blanked so: onwards to the sea. Somewhere on the coast of Blacksod Bay there is an unnamed peat bog (really, no name on the map) with a large unnamed (likewise) saltwater lagoon behind it which is replenished by (not even marked) deep, narrow channels in the peat through which the tide rushes faster than I can walk. There were mullet there, and sticklebacks and crabs and all the bog pools had prawns in them. Then we spotted three grilse but they vanished as soon as Nigel cast over them so I flicked a flying C into the torrent and whallop, hit a seatrout just under 2lb which pulled really hard in the fast (salt) water.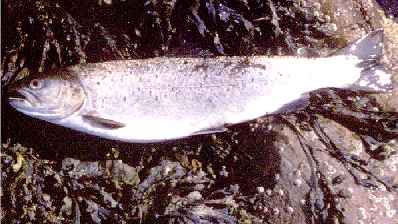 Next we found a bit of genuine open beach which will probably fish well later in the summer. We cast flies and spinners for form's sake but didn't really expect to catch at this time of the year, no surprises this time.
Finally to the estuary of the Owenduff at dusk where there is a short stretch of free seatrouting. Nigel took some more brownies and I lost the only three flies of the trip in the rocks.
When we got back to Foxford we heard there had been three salmon taken locally on worm in deep pools so that became our plan for the next day.
Friday: It turns out that we don't have the temperament for salmon worming Mayo style. None of us moved a fish. I waded a run that had been waist deep on wednesday, now it's thigh deep and not even the parr are taking. Just to rub it in others at our guesthouse returned with three salmon to the worm. We helped them celebrate with an assortment of drinks, fruitcake, cheese and biccies - and chocolate footballs (don't ask).
The highlight of the day had been an encounter with an otter. I was wading at the head of a pool just before sunset casting a fly for a change when I saw something big coming slowly upriver in a blaze of refections. It came closer and closer and dived at the foot of the pool. A trail of bubbles come even nearer and it surfaced fifteen feet away looking directly at me. It actually dived two or three times beneath my rod-tip as I stood still then, when I thought it had gone and began to cast again, it popped it's head out of the water once more to see what was going on...
It's amazing how wildlife somehow knows when it is not the current quarry.
Saturday: Dave wangled places on the Ridge Pool for Nigel and I but himself went off to try a couple of other rivers on the way back to his ferry - or was the rat deserting a sinking ship? Weather very bright, wind gusty from the north-east and cold so that we sweated in the sunshine when sheltered from the wind and shivered in exposed shadow. One fish showed itself a few times as the tide came off the pool but none of the five anglers on the pool that day touched a salmon, the second day running when no fish were taken in Ballina. (we did get several parr, trout and small seatrout, Nigel had one over half a pound but that's not why you take a double hander to The Ridge.)
It's a strange place to fish is the Ridge Pool, right in the middle of town with a promenade on the far bank, a busy bridge at the bottom of the pool and rank upon rank of hotel windows behind you as you fish. Locals know that thousands of salmon are taken here and it's a free show, there are never less than half a dozen spectators. Thus, every time your spey-cast goes wrong you look up and see a row of hard-bitten salmon fishers watching your bungling - then a cast goes just right but the critics have now been replaced by two nuns and a row of little girls. Another cast goes wrong and luckily there is now just a party of Japanese tourists - but all those camcorders are running and I'll be on display in Kyoto next month :-(
The general opinion in the Angler's Bar is that many salmon are in the estuary waiting for water and it's too bright for those already in the river. So on Sunday, naturally, as we left the 'plane at Stanstead it was deeply overcast and the first heavy drops of rain were falling.
We'll get it right next time, honest.