First find a fish
We were wandering along the upper Stour in search of summer chub when a golden glint caught my eye.
OK it wasn't a chub but it was keeping station in a narrow run between weedbeds so a quick change of tackle, just add an improvised float (dried reed stem) and shot from the bottom of my pocket to the freelining gear then turn over a log for a few skinny worms, toss in a couple of free ones and...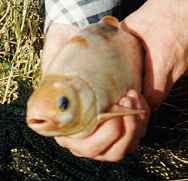 First cast produced this unlikely specimen. It's a roach, it weighed two ounces under 2lb and it's coloured like a goldfish.
The fish seemed fit and the signs were that it had spawned recently so back it went downstream of a small wier - there were a some nice chub between its swim and the wier top so that if it was put back where it was caught it would almost certainly have dashed downstream and disturbed them.
You'd have thought that herons and pike would have made short work of such a gaudy fish. It was easy to spot and for us demonstrated yet again that the hardest part of catching a decent roach is finding them. From the moment we spotted it no more than fifteen minutes elapsed before it was on the bank including the time taken to hunt for suitable bait.
A week later we returned to the water. This time we had some light float gear with us and a few maggots left over from a trip to a pond with young nephews and nieces the previous evening.
As we approached the spot where I'd caught the golden roach, fishing chum Colin decided to cross the footbridge and get a different view of the swim from the far bank over a reedbed. I continued on the near bank thinking of the chub we'd seen (and caught one of) the week before. Five yards above the previous position was a glint of gold...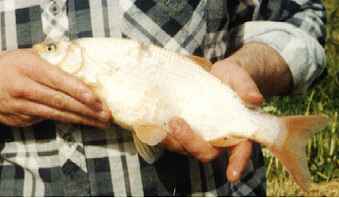 So: two scatterings of maggots and first cast the fish swung sideways, the float dipped and out came the same fish. It had run up a short rapid, climbed a low wier and returned to it's old haunts. This time I put it back where I'd caught it to save it the journey. Predictably, it dashed downstream and disturbed those chub.
It reinforces the old rule:
First find your fish.
Put a bait it will take in front of it.
Don't scare it.
It's finding the fish that's always the hard part. I always reckon that if I can see 'em then I've an excellent chance of catching 'em.