Catching prawns for bait
Pop-bottle prawn trap
Cut the screw-thread off the top of a 2 litre pet bottle. Cut the neck off at the shoulder. Turn it round and push it into the body of the bottle.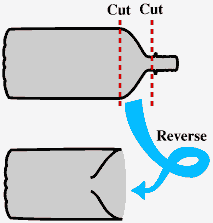 Use a hot needle to make holes around the shoulder so you can 'stitch' it together with heavy nylon. Use the hot needle again to perforate the body of the bottle or it won't sink. Tie a retrieval line through a couple of holes, weight with stones and bait with something decidedly rotten. The flashy version uses the neck of another bottle to put a second entrance at the other end.

Drop Net
Or the old standard bicycle-wheel-rim dropnet. Make sure you fit a cork to the bridle so the lines float and you don't flip your catch out when you lift. Tie a rotten fish to the middle, drop it straight down the side of a harbour wall and wait a few minutes. The trick is to make sure that from the instant you start to lift you keep up a strong pull so the flow of water through the net keeps the prawns in place. If you pause an instant they'll be off...
More prawns
These methods will get you a few prawns (and other creatures) for bait. If you want to catch enough for a family meal you'll need to make up several traps or dropnets. Alternatively the method given in Fish Suppers for Sailors will often gather enough for a meal in an hour or so.